Singapur das Tor zu Asien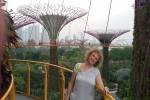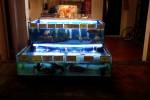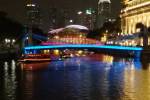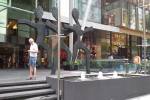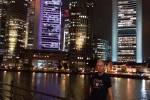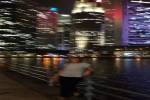 Auf unserem Weg nach Thailand, haben wir im März 17 einige Tage Stopp in Singapur eingelegt. Wir hatten das Glück, dass Freunde von uns hier leben und uns natürlich einige Tipps geben konnten.
Wir haben im Hotel The Elizabeth gewohnt, gleich um die Ecke, der bekannten Einkaufsstraße - Orchard Road.
Um einen Überblick zu bekommen, sind wir erst einmal mit dem Hopp and Off Bus gefahren. Die Tageskarte kostet 33,-- Singapur Dollar. Ein Euro sind 1,50 Singapur Dollar.
Am Besten hat uns der "alte" botanische Garten gefallen, der auch Unesco Weltkulturerbe ist. Eine grüne Oase mitten in der Grosstadt. nicht nur der Linksverkehr sondern auch die sorgfältig restaurierten Bauten aus dem 18. und 19. Jahrhundert lassen die englische Herrschaft erahnen.
Wir haben selten so eine saubere Grosstadt gesehen. Es ist ein Vergnügen durch die Straßen zu flanieren und viele kleine leckere Restaurants warten auf Gäste.
Am Abend, ist der Finanzdistrikt eine beliebte Anlaufstelle, am Singapur River reiht sich ein Lokal an das andere. Man sitzt am Wasser in lauer Luft, trinkt ein Tiger Bier und wird von den bunten Hochhäusern des Finanzdistriktes beleuchtet. In der Ferne läuft die Laser Show des Marina Bay Sands Hotels, mit dem 125 m Pool auf dem Dach.
Der "neue" Botanische Garten am Marina Bay Sands hat Metall Bäume, die langsam begrünt werden. Hier entsteht ein völlig neuer Stadtteil, nach aller neuesten Masstäben. Allein die Shopping Mall am Hotel ist von Kanälen mit Gondeln durchzogen. Hier wird Dubai Konkurrenz gemacht.
Diese Stadt wird uns auf jeden Fall wieder sehen.
Sie können sich gerne an mich werden, wenn Sie eine Reise nach Asien planen. Es gibt soviel zu erzählen, dass hier der Platz nicht ausreicht.
Reisedatum:
12. März 2017 - 18. März 2017